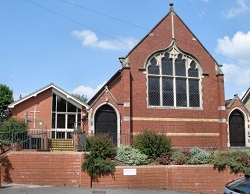 Welcome to Wotton United Church
Hi there! Welcome to Wotton-under-Edge here in Gloucestershire!
And especially to our Church.
Phil, our minister, writes:
Dear all,
Many of you will be at Bradley Street in the morning but for those who can't make it for whatever reason, here is this week's worship.
https://youtu.be/WpSKrxuu33c
  love to all,
Phil.
-- Keep safe, keep caring, keep praying.
Rev Phil Summers
01453 542565
07795 109126
Cam & Dursley Methodist Churches
Wotton-Under-Edge United Church
www.wottonunitedchurch.org.uk
www.dursley-methodist-church.org.uk
www.cammethodists.org.uk
http://www.eastingtonmethodists.org.uk/
My website: www.philipmartinsummers.com
My You Tube Channel: https://www.youtube.com/channel/UCR3MK4vyIarT6LLqbcIFNvQ
We can still remember when our normal Sunday Worship was at 10.15am and lasted about an hour
And when there was a conventional service at Dryleaze House (a local sheltered housing development) at 6.00pm on the fourth Sunday of every month.
But you know, COVID19...
You should be able to find out more about our services here or about the other things we do here. We hope there is something to interest you.
There is more about our background here.
We share a minister, Rev Phil Summers, with Cam Methodist Church and Dursley Methodist Church.
If you want to know what we do, then as we said above, you can read about our services, about our other activities, our monthly newsletter, or about what all the churches are doing in Wotton - or you can
If you need any more information or just want to talk about what we believe, please email us, or there is more contact information here.
Of course, one thing you might want to know is
Where Are We?
Bradley Street, Wotton-under-Edge GL12 7AR
Click here for a local map.