<!- visitor text ->
Some Historical Background for Visitors.
We like visitors, because a visitor founded half our Church.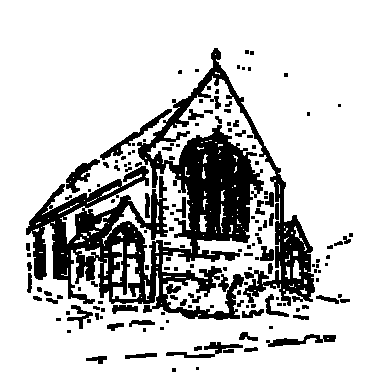 Elizabeth and Henry Dauncey were a rich Anglican couple who lived just outside Manchester, but whose families came from around here. In 1897 they came to Wotton to visit relatives. One afternoon they all went to a Tea at Ebenezer Methodist Church Sunday School - where Elizabeth dropped dead.
Henry was so heartbroken that he built Bradley Street chapel in her memory.
It was a strange act for those times: a Methodist chapel built by an Anglican. From our very beginning we have been a bridge between the denominations.
And the other half?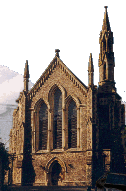 The Rowland Hill Tabernacle too has been a bridge between the denominations - though that is not how it began.
The original Tabernacle was built between 1771 and 1783 by a break-away sect of the more affluent members of the Old Town Meeting House. This followed the first visit to Wotton of the Reverend Rowland Hill, who was himself inspired by George Whitfield's work of bringing the Gospel to non-churchgoers.
Hill was a deacon of the Anglican Church who was unable to receive ordination as priest, because of his Calvinistic beliefs - though he remained in communion with the Anglican Church throughout his life, and himself established contacts with the Methodist Church, which is not Calvinist.
The first Tabernacle was a simple "preaching-box" which was radically rebuilt, huge and "gothic" in design, by two local benefactors in 1850. At that time, it had seating for around 800 and in its heyday further benches had to be provided in the aisles. It possessed a Manse and Sunday School, and Hill founded a row of almshouses "for ten aged women" - still on Tabernacle Pitch (though rebuilt) - which were endowed by income from a mill and other land which he acquired for the purpose.
Charles Spurgeon, the famous Baptist preacher of the nineteenth century, also preached here - partly in response to a prophecy spoken over him when he was only ten years old.
And what happened to the Old Town Meeting House, that the Tabernacle broke from?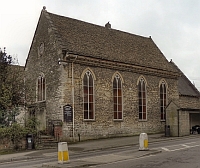 The building is still here on its original site, close to the War Memorial at the bottom of Old Town. And in 2000, when the United Church was being rebuilt, the Old Town Meeting House very generously offered us the temporary use of their premises - sealing with Christian forgiveness the breach over two hundred years old.
Since then, sadly, the building itself has ceased to be used for worship.
Together
In 1970 the Bradley Street Methodist Church united with the Rowland Hill Tabernacle Church.
Since then, we have worshipped as one Church in Bradley Street.
In September 1999 we began to redevelop the Bradley Street site; so for a few months we became guests of other Churches in Wotton: of the Old Town Meeting, of the Baptist Church and of Dryleaze Court. We are grateful for their hospitality, and for the chance even now to reflect the friendly spirit between Churches that Rowland Hill and Henry Dauncey showed.
The original building was a typical late nineteenth century box chapel, with what seems like a shallow chancel, but which in fact held the organ; the &quot.chancel arch&quot. carried the inscription &quot.Holiness becometh thine house, O Lord&quot., which is from Psalm 93 verse 5 in the Authorised Version.
A hall was added later, but in a very similar style.
All the buildings were kept in good condition down the years, but by the end of the last century it had become obvious that a major refurbishment was needed. Now we are continuing to keep the buildings updated, so that they are fresh and modern in style.
Even so, this is still at heart the same Church that Rowland Hill and Henry Dauncey founded, because we have still at heart the same faith that they had.
Why not come and see for yourself?
If you're not sure where we are click here for a local map